Happy Spring!? It is snowing and windy so I'll try to warm you up with this special I am offering throughout the summer months (May-August).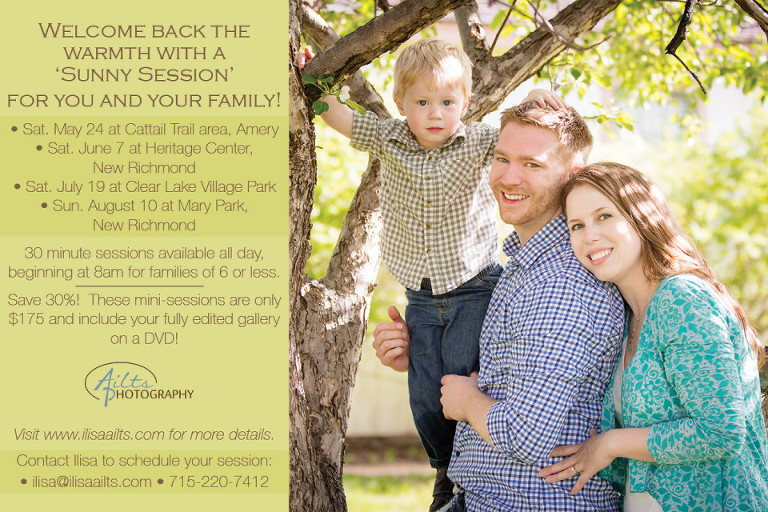 Here is what I have for YOU: My 30-minute Mini-Sessions are typically $250 and include a set of 4×6 proofs and the digital gallery on a DVD. I have chosen 4 weekend days and am holding Mini-Sessions all day. I have chosen the location for those days (see the photo card for the dates and locations). I will block off 45 minutes for transitions starting at 8am.
The best part is they are 30% off and only $175! Your collection will include a digital gallery of your fully edited images (40+ images, depending on your session). Families of 6 or less are welcome (due to the time allotment I would not encourage larger groups) and I will do individuals as well, for example Seniors are welcome!! Newborns would be more challenging but if that is what you would want, we would work with Baby as is (awake or sleeping).
I am scheduling these as first come, first serve.  When the day is filled up, I will let you know 🙂  I am very excited about this special offer and hope you are, too!  The fall time gets very busy and sometimes cold.  If you have little ones you might want to consider this offer as they tend to start crying when it is cold (mid-October and on, depending on our weather of course).
If you have ANY questions just give me a holler.  I look forward to working with you!  (email me: ilisa@ilisaailts.com or call me: 715-220-7412)